Exterior:
Style: Compact
Color: Orange
Approximate Dimensions: 2.5" X 2.25" X 1.75"
Interior:
Upper: Tropical Scene with duck sitting on railing
Lower: Dock, groove for speedboat ring and base, incision for fish to fit
Doll:
Lulu, short brown hair parted in center, white bathing suit with lavender horizontal stripes, red shoes and base (1991)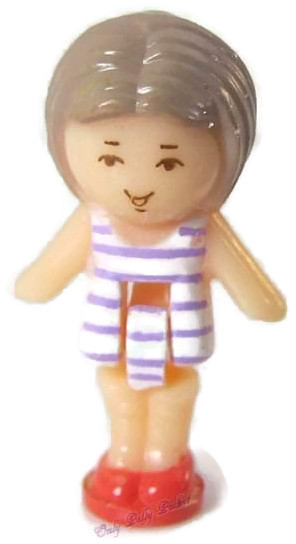 Additional Pieces:
Speedboat, red bottom, white top, silver, orange and green trim

Dolphin, Lavender

Ring band, aqua (most common) or dark blue
Bluebird Toys used to print delightful little stories on the packaging. Here is the story for this set:
"Little Lulu's Speedboat Ring and Ring Case
Little Lulu is having a great holiday with her speedboat playing with her friendly dolphin, swimming, sunbathing, and relaxing on the veranda of her tropical holiday home. You'll have great fun playing with her there!"