Exterior:
Style: Clock
Color: Dark pink glittery
Shape: Rectangle
Approximate Dimensions: 5" X 2.75" X 3.5"
Interior:
Upper: Bedroom with bunk beds, entry with grandfather clock, swing-pendulum
Lower: Eating area and revolving platform with window to front of clock
Action:
Keeps time (uses one "AA" battery)
Back door opens to reveal storage compartment. Back wall of compartment is removed to replace batteries
Top opens to reveal living quarters
Rotate dial to move swing
Table revolves to display dolls in front window above clock
Dolls:
Mr. Ticktock, bald on top with white fringe hair grown long and long white beard, green (teal) long-sleeved robe, navy blue shoes, tan base (1991)
Mrs. Ticktock, long gray hair pulled back and held with tiny yellow flowers, yellow long-sleeved robe, dark pink shoes, tan base (1991)
Polly Pocket, blond curly hair, light pink rain hat, matching raincoat, lime green boots, tan base (1991)
Midge, short strawberry blond hair with bangs, sleeveless dark blue dress with pink polka dots, dark pink shoes, tan base (1991)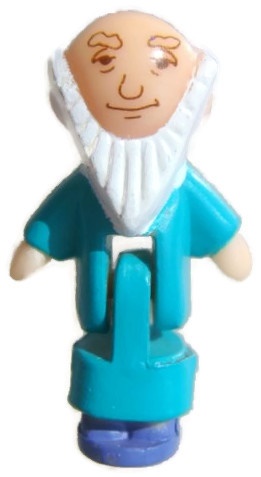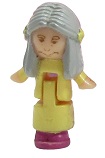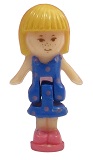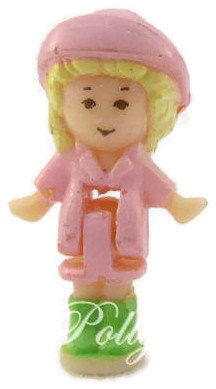 Bluebird Toys used to print delightful little stories on the packaging. Here is the story for this set:
"Mr. and Mrs. Ticktock live in magical Clock World, in a beautiful little house on top of the Glitter Clock. Polly and Midge love visiting because time seems to stand still and they can have much more fun!"