Exterior:
Style: Compact
Color: Slate blue
Shape: Round
Approximate Dimensions: 4" X 3.75" X 1.25"
Interior:
Upper: Mall with hair salon, jewelry store and clothing store
Lower: Skating rink, snack bars, eating area
Action:
Elevator ascends/descends
Turn pine tree to rotate skating rink
Dolls:
Polly Pocket, short blonde hair with gold head band, short blue skating outfit, white tights, gold skates, white base, skating pose (1994)
Little Lulu, dark brown hair parted in center in flip style, dark pink skating outfit with white collar and cuffs, lavender tights, silver skates lavender base, left foot back on toe (1994)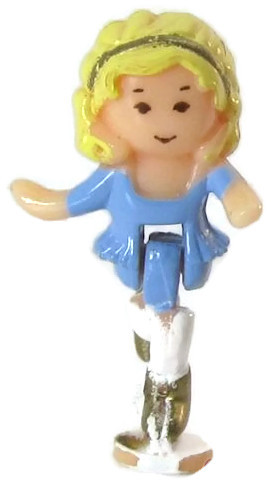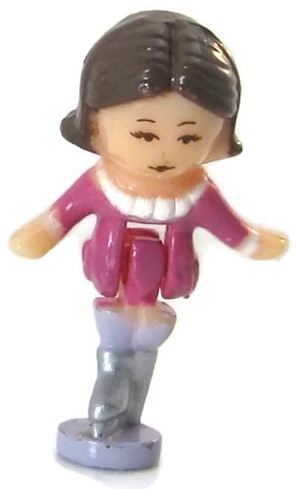 NOTE:
A visitor has just provided this photo of Little Lulu who is different that the typical one we see. She has stated that she got this set new in the package and the doll came this way, i.e., no discoloring over the years. Does anyone else have this doll? Please email with details. Thank you!