Exterior:
Style: Compact
Color: Dark pink
Shape: Square
Approximate Dimensions: 3.5" X 4" X 1.5"
Interior:
Upper: "Rocket" ride and roller coaster tracks
Lower: Park-like grounds and concession stand and roller coaster tracks
Amusement park scene with rides, roller coaster track flips down to connect top and bottom
Action:
Spin center of rocket ride to make cars go around
Dolls:
Polly Pocket, blond curly hair with purple hair band, pink dress with white bow at neck, dark green shoes and base, carrying 3 balloons (pink, yellow, purple) (1992)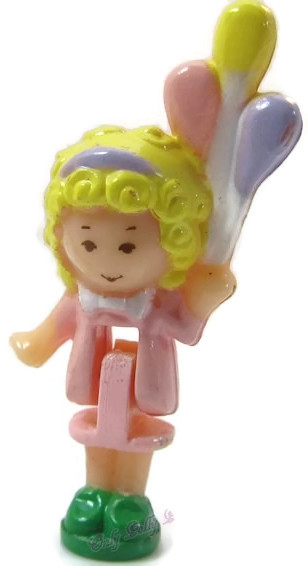 Additional Pieces:
Ride car, purple, silver trim, white bottom
Bluebird Toys used to print delightful little stories on the packaging. Here is the story for this set:
"Polly's Funfair
Polly loves going to the fabulous Funfair for the day. The rides are really exciting, especially the roller coaster with its little car whizzing up and down the bumps. As a special treat, there are loads of yummy snacks for Polly at the food stand. At the end of a super day out she can take home a big bunch of colourful balloons!"