Exterior:

Style: Compact

Color: Pearl ( See Variations)

Shape: Shell

Approximate Dimensions:

4.25" X 3.75" X 1.25"

Interior:

Upper: Chapel front with opening doors

Lower: Chapel interior with organ, reception table with cake and aisle

Action:
Chapel doors open to reveal wedding guests

The pearl set plays "Here Comes the Bride" when the button (top of wedding cake) is pushed
Dolls:
Bridesmaid Polly Pocket, blonde curly hair, magenta and blue headpiece, light blue ruffled dress with magenta bow down back, magenta and green bouquet, magenta shoes, tan base (1992)
Nancy, bride, blond hair, magenta and turquoise flowered garland holding on white veil, white wedding dress with magenta bow down back, magenta and green bouquet, pink shoes, tan base (1992)
Peter, groom, strawberry blond hair, lavender top hat with turquoise hatband, lavender tuxedo with turquoise stripes down side leg of trousers, turquoise bowtie and shoes, tan base (1992)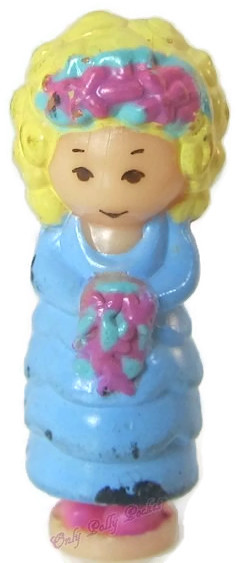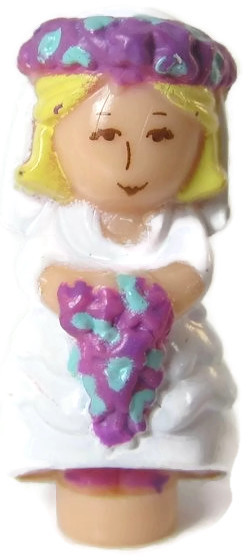 Additional Items:
Bluebird Toys used to print delightful little stories on the packaging. Here is the story for this set:
"Nancy's Wedding Day
Polly's friends Nancy and Pete are getting married and Polly is the bridesmaid! Everyone is wearing smart clothes, and afterwards there's a lovely cake and delicious food to eat! The bride and groom look so happy on their wedding day with all the exciting presents to open and there's even a 'gold' wedding ring for you to wear!"